Can Marijuana Help Treat Headaches Or Migraines?
---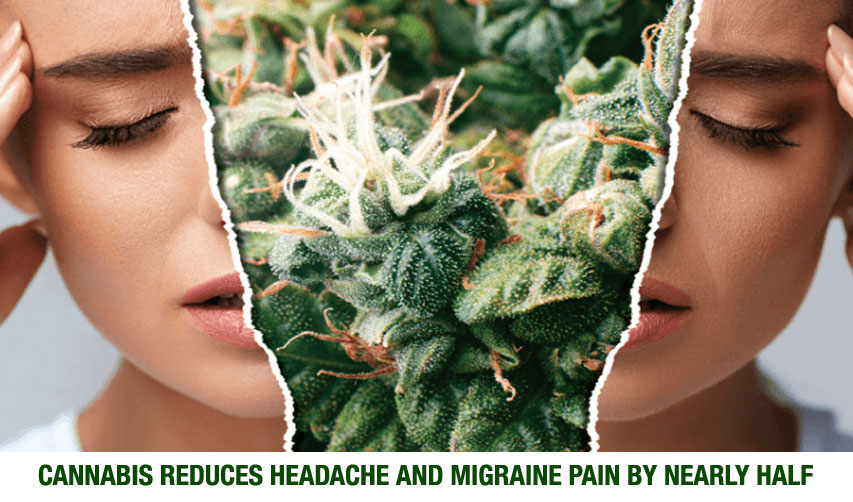 A headache or migraine can render patients defenseless. Symptoms can include pain, sensitivity to light and loud noises, as well as nausea. When over-the-counter medications like Advil and Tylenol don't treat headache disorders, what alternatives do patients have?
Headache disorders are common, debilitating, and, in many cases, inadequately managed by existing treatments. Although clinical trials of cannabis for neuropathic pain have shown promising results, there has been limited research on its use, specifically for headache disorders. This review considers historical prescription practices, summarizes the existing reports on the use of cannabis for headache, and examines the preclinical literature exploring the role of exogenous and endogenous cannabinoids to alter headache pathophysiology. Currently, there is not enough evidence from well-designed clinical trials to support the use of cannabis for headache, but there are sufficient anecdotal and preliminary results, as well as plausible neurobiological mechanisms, to warrant properly designed clinical trials. Such trials are needed to determine short- and long-term efficacy for specific headache types, compatibility with existing treatments, optimal administration practices, as well as potential risks.
Everyone either knows someone who suffers from migraine, or struggles with migraine themselves.
Migraine is the 3rd most prevalent illness in the world.
Nearly 1 in 4 U.S. households includes someone with migraine.
Amazingly, 12% of the population – including children – suffers from migraine.
18% of American women, 6% of men, and 10% of children experience migraines.
Migraine is most common between the ages of 18 and 44.
Migraine tends to run in families. About 90% of migraine sufferers have a family history of migraine.
Recent research indicates that marijuana could become a new option for patients. A 2017 published review found that, "headache disorders are common, debilitating, and, in many cases, inadequately managed by existing treatments." Before cannabis was made illegal in the early 1900s, the review notes, notable physicians at the time praised using cannabis to treat headache disorders. Doses at the time were typically administered two to three times a day orally while trying to minimize intoxication.
Studies report marijuana can reduce headache and migraine severity, but exact doses currently remain unknown.
"Although there have not been any clinical trials of cannabis as a treatment for headache to date, reports indicate that cannabis is commonly used by patients to self-medicate for headache disorders," the review's authors wrote. "A retrospective analysis has shown a significant impact of cannabis in treating migraine […] but properly designed placebo-controlled trials are needed to determine the true efficacy and complications of cannabis treatment for headache disorders."
A 2019 study by Washington State University researchers provided some data around this potential treatment. Scientists used self-reported data via the Strainprint app to collect information on how patients were using cannabis to treat headaches and migraines. On average, participants reported that inhaling marijuana caused headache severity to drop by 47%. Migraine sufferers said their pain severity decreased by almost half.
Marijuana use didn't precipitate an "overuse headache," in which over-the-counter medications cause headaches to worsen instead of improve. Researchers also found no significant difference in pain reduction depending on the type of marijuana participants smoked. Varying levels of THC and CBD had no significant effect, suggesting that other properties or cannabinoids in the marijuana plant (there are more than 100 cannabinoids in cannabis) cause the pain reduction in patients.
When cannabis was deemed illegal by the U.S. government, its therapeutic use and research into its medical potential was largely discontinued. To this day, there are few clinical investigations of the use of cannabis for headache; however, the studies that have emerged demonstrate potential efficacy. In addition, numerous pre-clinical investigations have validated the role of endocannabinoids in preventing headache pathophysiology, which suggests a mechanistic role of cannabis in the treatment of these disorders. Although the cannabis plant comprises more than 100 cannabinoids, there has been little study of the individual effects of these cannabinoids on headache disorders; therefore, the present review will focus largely on the clinical potential of the cannabis plant as a whole.
Migraine affects kids, too.
Migraine often goes undiagnosed in children.
About 10% of school-age children suffer from migraine, and up to 28% of adolescents between the ages of 15-19 are affected by it.
Half of all migraine sufferers have their first attack before the age of 12. Migraine has even been reported in children as young as 18 months. Recently, infant colic was found to be associated with childhood migraine and may even be an early form of migraine.
Children who suffer are absent from school twice as often as children without migraine.
In childhood, boys suffer from migraine more often than girls; as adolescence approaches, the incidence increases more rapidly in girls than in boys.
A child who has one parent with migraine has a 50% chance of inheriting it, and if both parents have migraine, the chances rise to 75%.
In both cases, the studies noted more research is necessary before providing exact advice on using marijuana for headache treatment.
"My hope is that this research will motivate researchers to take on the difficult work of conducting placebo-controlled trials," Carrie Cutter, the 2019 study's lead author, said in a statement. "In the meantime, this at least gives medical cannabis patients and their doctors a little more information about what they might expect from using cannabis to manage these conditions."
Inhaled cannabis reduces self-reported headache severity by 47.3% and migraine severity by 49.6%, according to a recent study led by Carrie Cuttler, a Washington State University assistant professor of psychology.
The study, published online recently in the Journal of Pain, is the first to use big data from headache and migraine patients using cannabis in real time. Previous studies have asked patients to recall the effect of cannabis use in the past. There has been one clinical trial indicating that cannabis was better than ibuprofen in alleviating headache, but it used nabilone, a synthetic cannabinoid drug.
###
Brendan Bures
---